Room Management partnership between TOPdesk and GoBright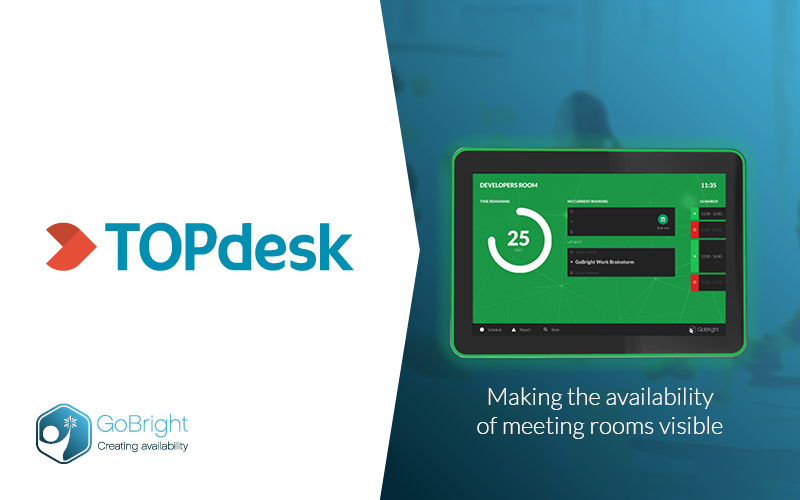 Delft – 1 January 2020 – TOPdesk, a service management expert, and GoBright, a software developer for room booking, desk booking and visitor management, announce a new partnership. TOPdesk has selected GoBright as its partner for room management solutions for customers who use TOPdesk together with Outlook (Outlook Room Booker). The link between TOPdesk and Outlook is provided by Scope4mation. GoBright's room management platform seamlessly integrates with this.
Thanks to the partnership between TOPdesk and GoBright, facility managers will now have better insight into the use of their meeting spaces. It will also help achieve significant improvements in occupancy rates. If a user fails to show up, the space is automatically made available again. Users can reserve spaces at the meeting room using the display unit, via Outlook, TOPdesk or the GoBright app. This makes it simple to find and reserve the most suitable space, and helps achieve rapid acceptance of the solution.
Chris Wiegeraad, Commercial Director of GoBright: "The power of the partnership is the overall service offering. We combine TOPdesk, Outlook and GoBright, and that gives customers improved ease of use, as well as a functional improvement. And this is ultimately our aim."
Ard van Spelde, Partner Manager at TOPdesk: "The added value for our customers is that the booking process just got a whole lot easier. The ability to book a meeting space right when you arrange the meeting in Outlook frees up a huge amount of time. What's more, the meeting room will automatically be made available again if the meeting is cancelled. This means that costly meeting space can be put to the best possible use. This represents a win-win situation for users and for facility managers."
About TOPdesk
TOPdesk has been helping organisations improve their service delivery and create an environment in which employees can get the best out of themselves since 1993. We do this with user-friendly products that encourage collaboration and can be easily integrated. We have a committed team that puts learning, knowledge sharing and partnerships first.
Today, TOPdesk has more than 700 employees, and we help more than 4,500 organisations around the world to improve their service delivery. Follow us @TOPdesk on Twitter and Facebook. For more information, for images or to find out how to contact us, please visit https://www.topdesk.com.
​
Room Management partnership between TOPdesk and GoBright