Digital Signage: applications and characteristics
Just some of the possibilities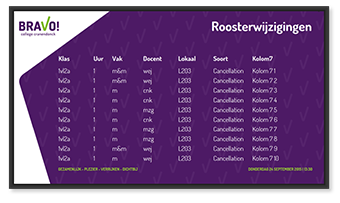 Roster changes
Outdated and/or surplus roster information is a thing of the past with TiC Narrow Casting. By coupling to your own roster system actual roster and classroom changes, or absence and sickness notifications, will automatically be reflected schematically on the display screens.
Company figures
Extract data directly from am ERP/CRM package and visualise these. The possibilities within TiC Narrow Casting are many and varied. Automatic linking to turnover, results, targets, prognoses, production quantities, supplies etc. ensure that presentations always contain actual figures.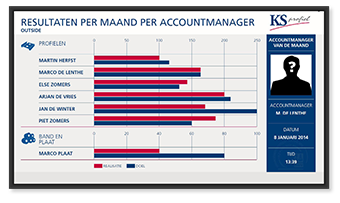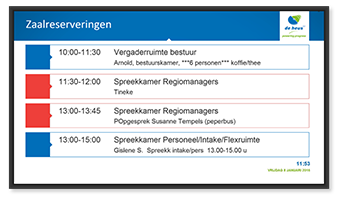 Room reservations
TiC Narrow Casting can be linked with your own internal meeting room reservation software. With an interval that can be set in advance, the room planning will be displayed on the screens. When something changes in the planning, this will be published live immediately without any further actions being required.
Public transport times
Display actual information about departures and arrival times of trains, buses, trams and metros of the nearest station, by means of a live feed to OV9292. The information actualises automatically as the day progresses.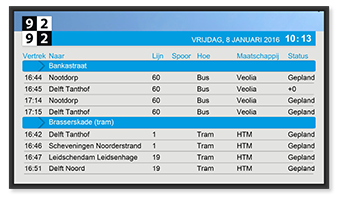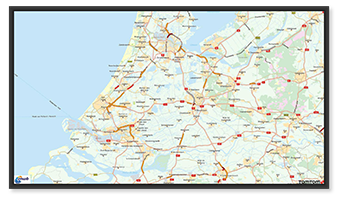 Traffic jam information
Show actual traffic jams by means of a feed to the ANWB traffic jam service. It is possible to provide both text files and a visual display on a (regional) road map.
Wheater news
Nothing is more changeable than the weather. In collaboration with Weeronline, actual weather forecasts can be shown, from shower radar to forecasts for the day or the week.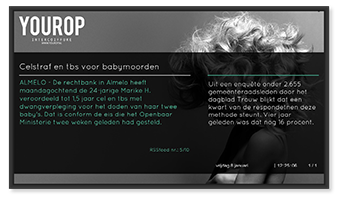 News
Always have actual news on screen thanks to RSS feed from all large news sites. Or show video news by means of a live feed from Nu24.
Price list
No more paper and out of date price lists, but an actual digital version, that can even be modified easily. Save time and money and present price lists in a new, professional and refreshing manner.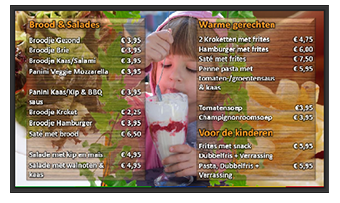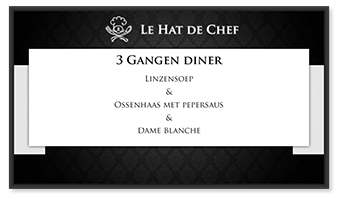 Menus
In a restaurant you often see many paper menus or menu and special offer boards, often in different styles, messy and maybe even out of date. From now, Narrowcasting can solve this problem. All information can be presented clearly on one or more screens, and it will always be current. Save a lot of time and money and present menus in an innovative way.
Calamities and evacuations
We hope it will never be needed, but TiC Narrow Casting can also be deployed as (an addition to) evacuation, escape route or warnings systems. Priority interruption allows for an immediate switch to an alternative playlist in the event of an acute (emergency) situation. The actual playlist will immediately be replaced by the alternative playlist.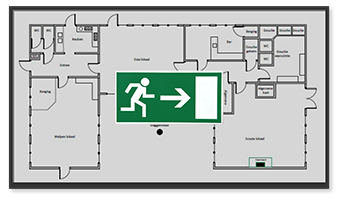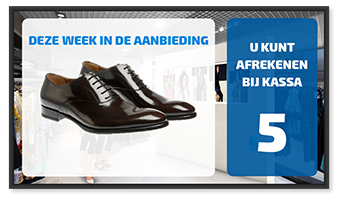 Waiting
No-one likes waiting, but when there are many visitors this sometimes cannot be avoided. TiC Narrow Casting combines the issuing of numbers with communications into one. No separate screen with numbers anymore, this is integrated into the narrowcasting software. It reduces costs, the attention value of the communication is much higher and it "eases" the waiting.
Queue management
It is possible to integrate a complete queue management system into TiC Narrow Casting. The dispensing of a queue number is achieved through a touch kiosk with ticket printer. The visitor can choose the right counter straight away. In addition, extensive log and analysis functions can be consulted and shown that display the number of tickets processed, the average waiting time, the numbers at the counter, the expected outflow from a counter etc.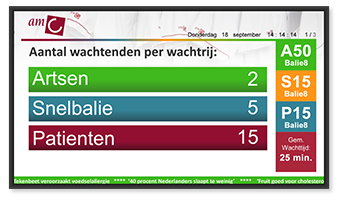 Walking routes
TiC Narrow Casting can also be deployed as digital signage in a hotel. Combine walking routes, marketing and the provision of information on one screen and get the maximum return from screens this way.
Match information
TiC Narrow Casting can be linked to websites that show team results and scores, as well as with in-house software for this purpose. By means of an interval, determined in advance, all results and scores can be actualised on screen. When anything changes, this can be published live immediately.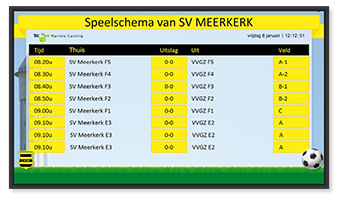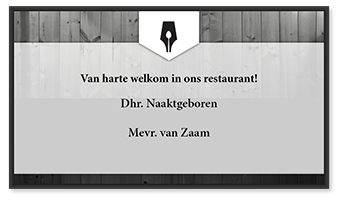 Welcome
Welcome guests and a personal manner and greet guests in their corporate style. It demonstrates recognition and makes people feel valued and important. With TiC Narrow Casting it is not much trouble to give the customer or the guest the personal touch they deserve.
Information and infotainment
The possibilities of TiC Narrow Casting are endless. From announcing events to promoting marketing activities. Or think of the publishing of photos or videos of staff outings or parties. Carrying out company policy, publishing actions and promotions and entertaining visitors, it is all possible within the framework of TiC Narrow Casting. Turn your screens into versatile information and communication providers.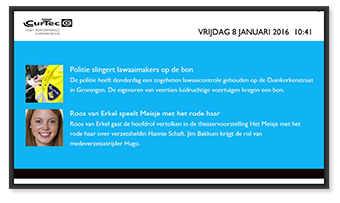 Epatra B.V.
Ohmweg 63
2952 BB Alblasserdam
Netherlands
Tel: +31(0)78 - 68 11 420
E-mail: info@epatra.eu
Website: www.epatra.eu
Epatra B.V.
Spoorstraat 56F
8271 RH IJsselmuiden
Netherlands
Tel: +31(0)78 - 68 11 420
E-mail: info@epatra.eu
Website: www.epatra.eu
Epatra BVBA
Singel 5
2550 Kontich
Belgium
Tel: +32(0)3 - 808 08 35
E-mail: info@epatra.be
Website: www.epatra.be
ACE AV
Bergkällavägen 34
192 79 Sollentuna (Stockholm)
Sweden
Tel: +46 (0)8 - 4463720
E-mail: info@aceav.se
Website: www.aceav.se